About Us

High Ground Partners LLC was formed in 1997 by Mark Reed. Today Mr. Reed divides his time between Portland, Oregon and Scottsdale, Arizona.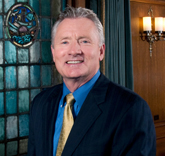 Mr. Reed brings more than 30 years of high technology management and consulting experience to his prior role of Founding CEO and Vice Chairman of NAVEX Global. NAVEX Global is the world leader in SaaS based software solutions for corporate ethics, compliance, and risk management. Prior to NAVEX Reed served as CEO of EthicsPoint a pioneer in Hot Line/Case Management applications. He is often retained by private equity and/or investment groups to execute turnaround initiatives as well as business acceleration projects with the goal being enhance enterprise value.
Mr. Reed has served as vice president of marketing and sales for a former division of General Electric, as senior vice president of sales, marketing and services for InFocus Systems and as the CEO of that company's first acquisition, Genigraphics Corporation. Since forming High Ground Partners, Reed has led or advised a variety of technology and services companies around the globe. He has served in the capacity of Chairman, CEO, President and Outside Director for companies including; Cord Communications, Lightware Inc., EnvoyGlobal.com, Webtrends, and @Once. He has undertaken strategic consulting projects with Clarity Visuals, Symantec, NetIQ, info USA, SAP America, Pacstar, Lightspeed and several other prominent firms both domestic and international. Mr. Reed also serves as an executive coach for several of the most successful mid-market technology leaders in North America.
Today Mr. Reed partners with a diverse set of Private Equity Firms in managing projects related to pre-transaction due diligence as part of an M&A activity in addition to spearheading the post transaction 'first 100 days' performance improvement initiatives once a transaction is closed. High Ground is also increasingly called upon to assist companies with the development of effective marketing and sales processes, methodologies, and metrics leading to significant and sustainable revenue growth. Mr. Reed is retained by companies to coach and mentor teams and individuals where optimum personal and professional growth and exceptional performance are required to win. An experienced CEO and board member, Mr. Reed manages engagements with a hands on and personal approach.
Mr. Reed currently serves on several corporate boards and is often asked to be the featured speaker at prominent industry events. He also serves as a guest lecturer on the topic of High Performance Leadership in The Graduate School of Management at George Fox University.
References for Mr. Reed or any of the High Ground Group affiliates are available upon request.